CLEVERDISPLAY! THE ONLY WAY TO DISPLAY!
CleverDisplay is sinds 2003 een vertrouwde producent op het gebied van narrowcasting/digital signage in Nederland. 
CleverDisplay has been the supplier of digital signage since 2003.
Using digital signage for your business? Standing out with digital signage? Want to make a message clear through digital signage? CleverDisplay has been a trusted supplier of digital signage software and displays since 2003. Furthermore, CleverDisplay supplies high-quality products at competitive rates.  
SUITABLE FOR EVERY COMPANY
SUSTAINABLE SOFT- AND HARDWARE
Create an experience through digital signage!
Create an experience by means of digital signage. How? We use digital signage for various purposes. These goals are intended to activate, stimulate, incite or inform a visitor. The purpose of the content is entirely up to you. This content contributes to the customer experience of visitors. It creates an unique customer experience that they won't easily forget. Do you also want to develop a unique customer experience for your organisation or company? Please don't hesitate to contact us!
We work with various suppliers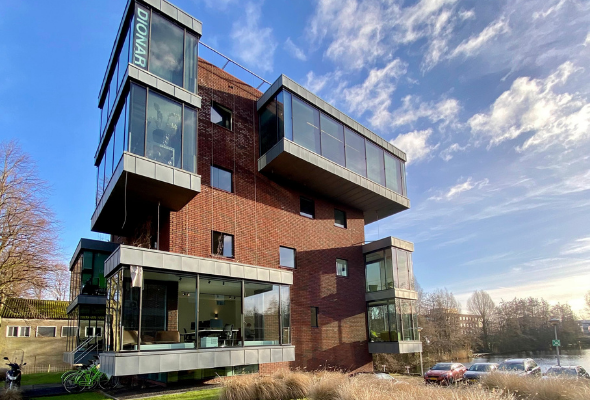 CleverDisplay is onderdeel van Dionar Holding B.V. 

Het ICT-bedrijf Dionar is sinds 1997 een voorloper is van de Cloudgedachte die voor centralisatie zorgt. 
Audiovisual products from Cleverdisplay
Whether it's a small, medium or large company, we offer digital signage solutions for every business. For example, we specialise in customised quotations for projects large and small. We deliver to large companies such as Axalta BV and Air France-KLM, but also to the baker on the corner who has started communicating by means of displays. This is what makes our work so varied and fun!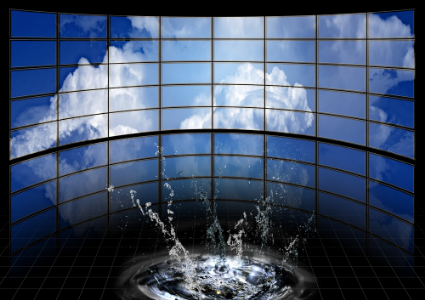 Offers from CleverDisplay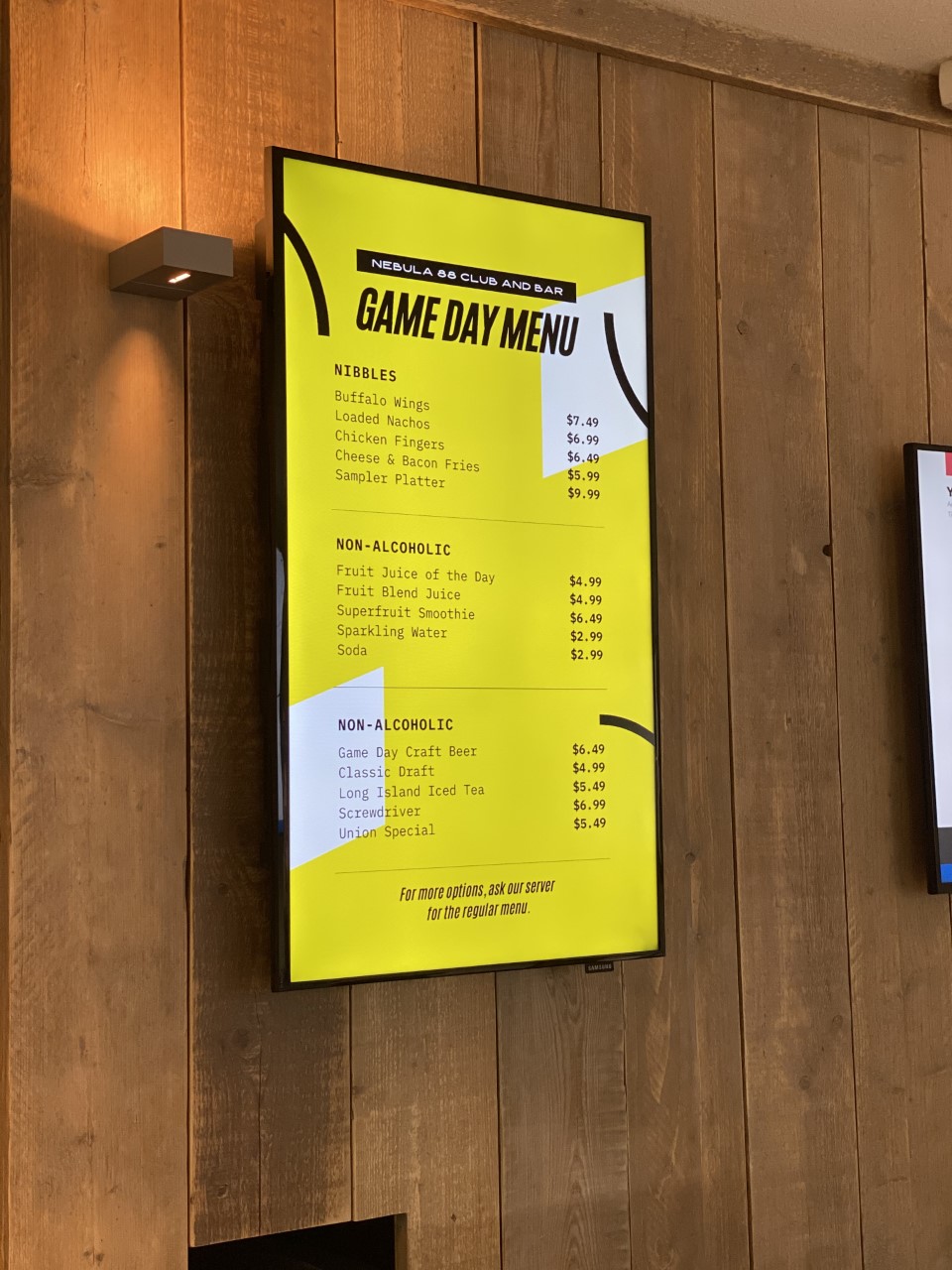 Creating and displaying content quickly and efficiently. We understand better than anyone how important it is to use marketing tools for content creation. For example, our software has been developed in such a way that tools like Canva are integrated within the control. You can put templates developed in Canva on the screens in no time. Integrate your own PowerPoint or add a Canva template. You can really show everything on the professional screens via the CMS! We understand what it takes to set up efficient marketing campaigns/online communication. Our services are ideally suited for this! In short, with visual marketing and communication you achieve your goals!  
What is the meaning of digital signage? Well.. We will explain it to you! Digital signage hard- and software can be used to convey a message via image. You can project content onto screens yourself via digital signage software and displays from CleverDisplay. You decide what will be projected onto the screens. This way you can fill screens within a company with images that influence people's behaviour. How? For example, presenting attractive dishes on a screen above a takeaway counter or showing guests the way around an office building.  

This way you create cool images with your own content. That's why we call it your own professional TV channel on a television! It's best to contact us for the prices of our narrowcasting systems. We make tailor-made offers.  

Would you like to know more about digital signage? Please don't hesitate to contact us! 
Content planning becomes a doddle!
CleverDisplay's CMS has an ideal tool for streamlining and scheduling content easily. You can log in easily and from anywhere via the Cloud. Ideal for people who work from home or are not on location for a while. Using handy and familiar templates, you design content and put it on the displays within seconds. ClearDisplay's CMS can also be controlled by mobile phone.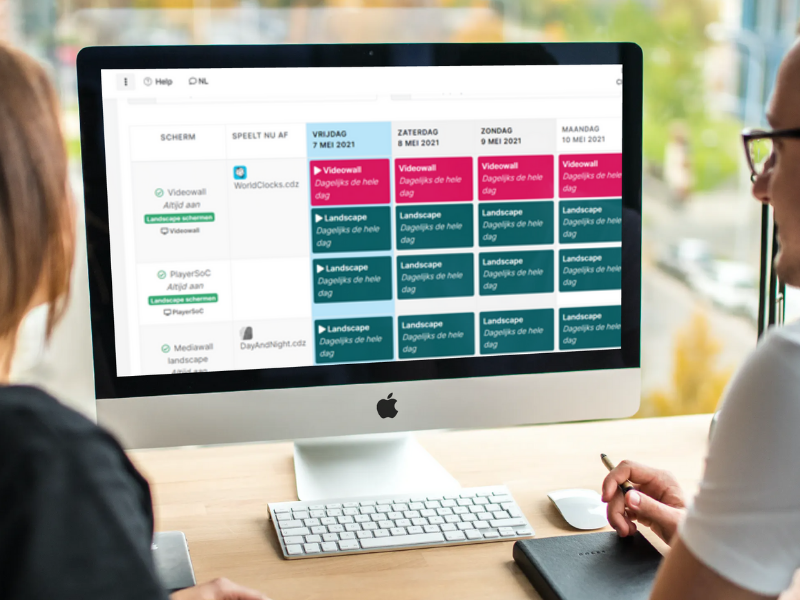 Proud of our clients worldwide
Want to find out more about all our collaborations? 
View our showcases showcases.
Frequently asked questions about digital signage
To get started with digital signage, you obviously need a professional screen on which the content can run. In addition, the content must be controlled by a CMS. This can be done in two ways, by a separate media player and a screen. This is useful when there is already a professional screen on the premises. Or a new technology: the system on chip. This option means that the CMS is already implemented within the screen. You can kill two birds with one stone! This saves a lot of money in the long run. So no separate media player is needed to keep the CMS running. Want to know more about the SOC? Click here!
Digital signage is the visualisation of content via a display. Via professional TV screens, messages are shown that should activate, inspire and/or influence visitors. By using content, lines of communication within companies can be better streamlined. For example, visitors can see on screens where they are expected. 
 
Digital signage is centrally controlled by means of a CMS. It can be implemented in two ways. By means of a media player or by an SOC. The narrowcasting control system/CMS was developed in-house by CleverDisplay. 
The media players or the SOC for controlling the CMS can be connected to a network either by Wi-Fi connection or by cabling.

 
CleverDisplay's CMS is called the Director. You can log in via a Cloud. The director works by means of templates, content can be created and easily scheduled. 

The director offers numerous standard templates such as a news display, weather display and route descriptions. In addition, templates can also be divided by your own content. 
Definitely! Various templates are available including PowerPoint. 

Want to find out more about all the templates? Please don't hesitate to contact us!
No. Digital signage displays are not the same as living room TV screens. This is because the screens are specially designed for digital signage applications. Normal TV screens do not have these applications. 

CleverDisplay screens are durable and have a long operating life. We also work with various suppliers. We tune the screen by selecting the right supplier for each project. This is how we deliver tailor-made solutions. 
No. If a digital signage display is already present, in principle, only a media player needs to be connected to the screens. 
If you want the latest digital signage features, we recommend switching to the SOC (system on chip software). 
You can also choose to buy only a licence to use digital signage. 
Definitely! We install the screens. After the link with our CMS has been made with a media-player or licence, you can use the digital signage straight away. 
Digital signage brings every room to life. Why narrowcasting? Because digital signage creates an unique customer experience in every branch. Digital signage can be used in various ways for your company or organisation.  For example, you can entice guests with exclusive offers via the screens within a shop. Or inform guests in a catering business about upcoming events and new dishes. Hospital visitors are properly informed, but digital signage can also be used for internal communication within office buildings. There are many possibilities for this. 

  
Definitely! In addition to digital signage screens, we also supply LED walls that incite action outdoors.

An LED wall consists of LED panels. A LED wall is mainly used for advertising purposes. These screens can be placed against buildings 
Want to find out more about the possibilities? Please don't hesitate to contact us!
The templates can be adapted to the company's house style. Every style is possible. The colours of each company can be displayed. Want to know more about the content? Please don't hesitate to contact us! 
Why work with CleverDisplay? Since 2003, we have extensive experience in various sectors in the field of digital signage, audiovisual solutions and other techniques with which we raise various rooms to a higher level.
Central control via advanced director
CleverDesk support; on working days always a direct line to which questions can be addressed
Mobile control 
You can create unique content that optimises the customer experience
Available in different languages such as English and German
Project-based offers for small but also large companies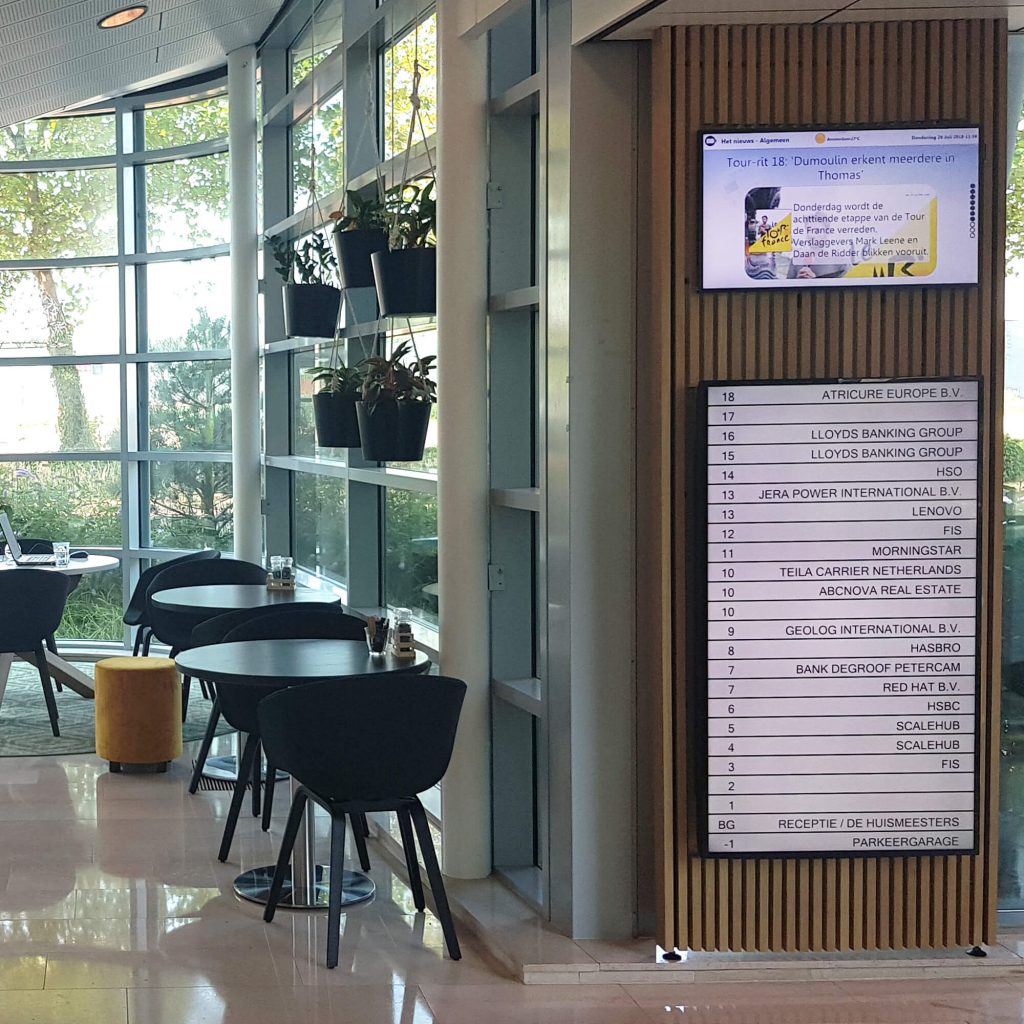 CleverDisplay has been the supplier of digital signage since 2003.
Werken bij CleverDisplay? We groeien! Bekijk onze vacatures!