What is Digital signage? Through professional screens, visual content is displayed that informs or amuses the recipients of the images. The content is continuously played back dynamically on the display. This allows companies to show an endless number of messages via screens within one minute. Digital signage is therefore always in motion and has a modern look unlike tangible printed matter such as posters or flyers. 
Digital signage has certainly become much more popular among marketing departments and entrepreneurs in recent years. Digital signage increases the customer experience of visitors at the relevant location. Why? Because of the streamlined communication, your visitors know exactly where they stand! 
How can you use digital signage for your business?
Digital signage can be used in many ways. This differs per industry. What digital signage deployed for the business where you work? 
Retail: Strengthening branding, offering new products, shopping routes, corona signs and optimising the visual experience within shops and fitting rooms
Catering: creating atmosphere, signposting within the venue complex, integrating internal systems Operapresentation dishes and prices
Healthcare: INTRANET links or for example signposting
Sport: show information about competitions, advertising messages from sponsors or humidity measurements
Offices: Meeting technologies, signage and internal communication
Production: Information on production plus indication of which hall, links to production systems
Education: Multifunctional screens, interactive teaching, humidity measurements and signposting
Transport: information on arrival and departure times, advertising of shops and restaurants.
Entertainment: Atmosphere and branding
Banks: Show stock prices and internal communication 
Industry: Display directions, safety instructions, humidity information and emergency plans.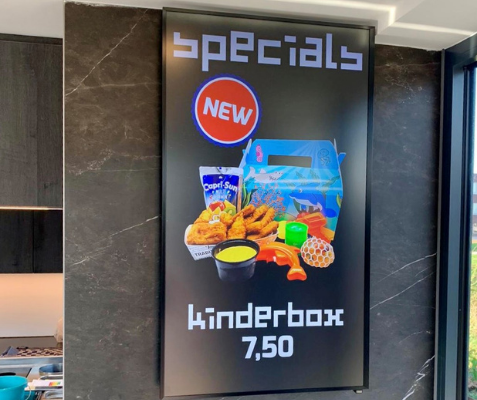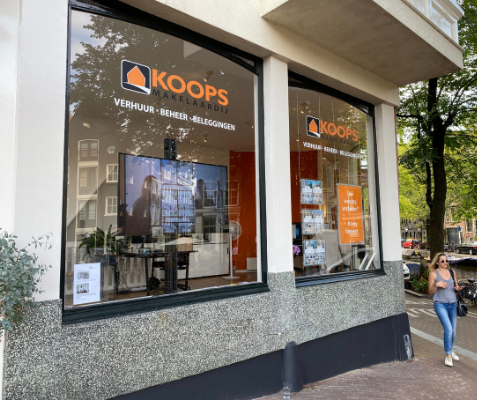 Digital information display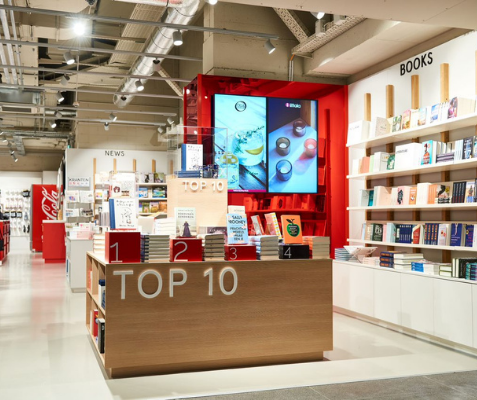 Internal and external communication
Digital signage in the retail industry
The most common uses of digital signage in retail are to optimise the customer experience, to offer new products via a screen, to strengthen branding and to guide visitors within large and small shops. 
Within the catering industry, you can go in all directions with digital signage software and hardware. For example, you can display dishes and prices behind the counter in fast food restaurants, create atmosphere in casinos with digital signage and show guests the right way in hotels with internal communication. It's also possible to link hotel systems such as Opera OPERA (Hotel Property Management System) to our digital signage system.   
Visitors to a hospital need to be able to find a ward easily. Signage via narrowcasting is therefore indispensable within healthcare institutions. Visitors can easily see which way to go via the communication on the screens. In addition, narrowcasting solutions are installed after the signage in waiting rooms to further inform visitors about waiting times. Furthermore, advertisements from pharmaceutical companies are shown. It's also great for visitors to be able to see what innovations and developments the healthcare institution is working on while they wait. We supply both large hospitals and small practices. 
Digital signage in offices
Within an office space, it is important that the company's internal communication is in tip-top order. Work schedules, news, sick notes, birthdays, macro-economic and internal developments and many other important issues are communicated internally to the employees via the displays. 
Visitors to the office can also see which way they should go via narrowcasting. CleverDisplay's displays are also highly suitable for meeting technologies and solutions. For example, we supply meeting technologies such as multifunctional screens for training purposes and other audiovisual solutions to several offices every day.
Visual communication for production halls
Clear communication is needed within factories and production halls. Via digital signage, employees can see immediately when a shipment will be picked up and/or delivered and other safety regulations. 
Digital signage in education
In the Internet of Things, interactive communication with students and teachers is of paramount importance to CleverDisplay. We therefore provide interactive solutions within the education sector. Screens that can do just that little bit more than usual. For example, a student or pupil can see via digital signage which classes are cancelled or select a room for a lecture via a touch screen. The options in education when it comes to visual communication are endless.
Digital signage in logistics
In aviation and public transport, narrowcasting is practically indispensable. Every second, the information on the screens is filtered with the correct arrival and departure times. This way, visitors are always correctly informed. We also provide display solutions within departure halls so that visitors have an immediate overview of the selected gate. In the logistics sector, too, digital signage is an important part of working life. This way, employees can see exactly when trucks, boats or other means of transport need to be loaded and unloaded. 
In-house developed software
Our software is a product that we have developed ourselves. In this way, we can ensure that we offer quality at all times. The CMS is optimised every month by our technical experts. We have two innovative departments that are constantly on the lookout for the latest trends. So our digital signage software never lags behind any innovations.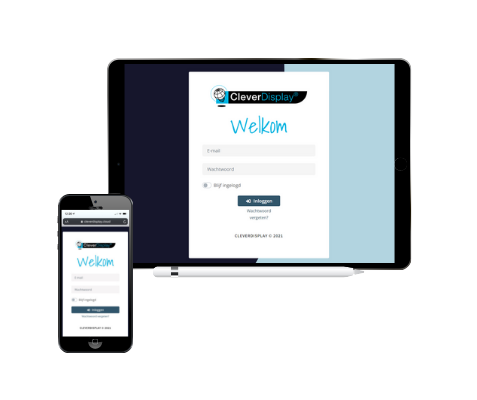 CleverDisplay has been the supplier of digital signage since 2003.